Vor einigen Jahren hat die BBC eine Umfrage unter Reisenden gemacht und Sie gebeten, ihre schönsten Reiseziele zu nennen. Daraus ist die Liste der besten 50 Orte, die man gesehen haben sollte, entstanden. Natürlich gibt es viele "50 Orte" in den verschiedensten Formen und Variationen. Es gibt im Internet Portale, die einem helfen, Ziele für die nächste Reise zu finden, aber ich bin bisher sehr zufrieden mit dieser Liste und bisher nicht enttäuscht worden.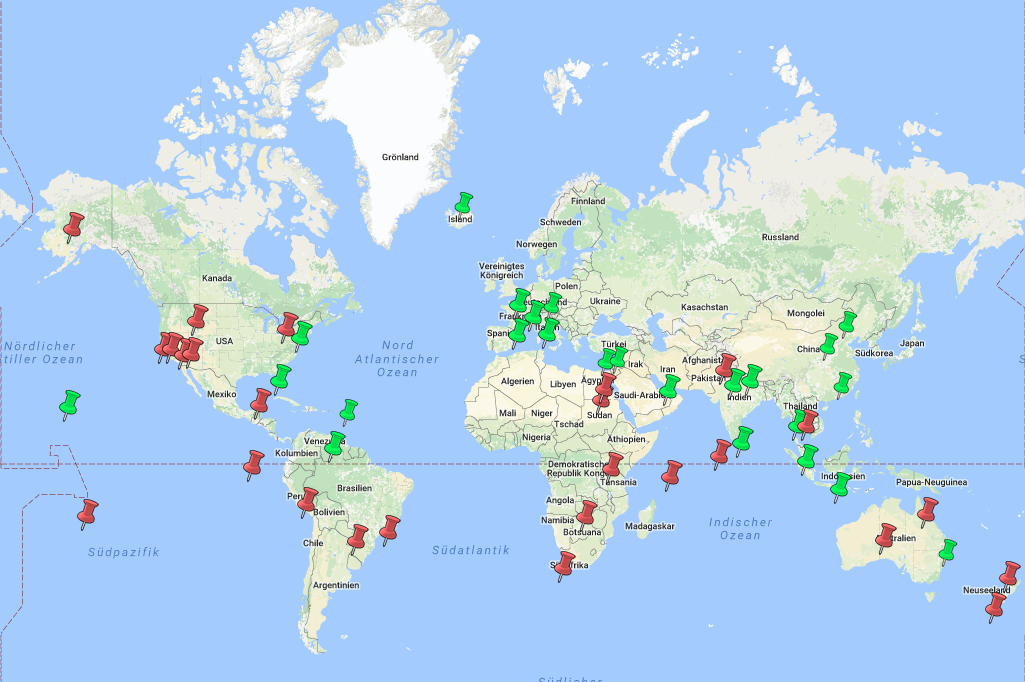 Die 50 Orte nach Kontinent
Hier die Aufstellung der Ziele. Die mit einer grünen Nadel markierten Ziele, bzw. die mit einem Sternchen habe ich bereits besucht. 🙂
Nord-Amerika (3/11)
* Florida und Walt Disney, USA
* New York, USA
The Grand Canyon, USA
Las Vegas, Nevada
Canadian Rockies
Chichen Itza, Yucatan Halbinsel
Niagara Falls
Yosemite National Park
*Hawaii
Alaska
San Francisco
Europa (6/6)
* Venice
* Paris
* Rome
* Barcelona
* Zermatt, Switzerland
* Iceland
Afrika (1/7)
Cape Town und Tafelberg
* The Pyramids, Cairo
Victoria Falls, Zimbabwe
Masai Mara, Kenya
Luxor, Egypt
La Digue, Seychelles
Abu Simbel, Egypt
Süd-Amerika (2/7)
* Angel Falls, Venezuela
Machu Picchu, Peru
Iguassu Falls, Argentina and Brazil
Rio de Janeiro, Brazil
Galapagos Islands, Ecuador
* Barbados
French Polynesia (Bora Bora)
Asien (10/14)
* Bali, Indonesia
* Singapore
* Bangkok, Thailand
* Dubai, United Arab Emirates
* Taj Mahal India
* Nepal, Himalayas
* Hong Kong
* Great Wall of China
* Terracotta Army, China
Angkor Wat, Cambodia
Sri Lanka
Golden Temple in Amritsar, India
Maldives, Indian Ocean
* Petra, Jordan
Australia (1/5)
Great Barrier Reef
South Island, New Zealand
* Sydney, Australia
Uluru (Ayers Rock), Australia
Auckland, New Zealand
Übersicht aller Länder in denen ich bereits gewesen bin ist hier zu finden: ->link.